What We've Been Reading (and Listening) In 2020
We emphasize learning and personal development at Access Ventures. We believe books and podcasts play an important role in achieving growth. Because of the disruptive year we've all experienced, our team would love to share what has inspired and entertained us throughout it. Some of these books are newer, others have been published for a while and others you may have even seen us feature in years past. As our team has grown over the years and books are shared for the first time with new team members they are often revisited by all of us and conversations begin anew. Hopefully, the resources that we share below are as interesting and helpful to you as they are to us. You are just a scroll away from our favorite reads and listens, enjoy!
Vanessa Koenigsmark
American Prison: A Reporter's Undercover Journey into the Business of Punishment
By Shane Bauer
In 2014, Shane Bauer was hired for $9 an hour to work as an entry-level prison guard at a private prison in Winnfield, Louisiana. An award-winning investigative journalist, he used his real name; In American Prison, Bauer weaves a much deeper reckoning with his experiences together with a thoroughly researched history of for-profit prisons in America from their origins in the decades before the Civil War.
The Unbanking of America: How the New Middle Class Survives
by Lisa Servon
An urgent, absorbing exposé—why Americans are fleeing our broken banking system in growing numbers, and how alternatives are rushing in to do what banks once did.  Banks, with their high monthly fees and overdraft charges, are gouging their low- and middle-income customers, while serving only the wealthiest Americans.
The Color of Law: A Forgotten History of How Our Government Segregated America
by Richard Rothstein
In this groundbreaking history of the modern American metropolis, Richard Rothstein, a leading authority on housing policy, explodes the myth that America's cities came to be racially divided through de facto segregation—that is, through individual prejudices, income differences, or the actions of private institutions like banks and real estate agencies.
This Is How It Always Is
by Laurie Frankel
This Is How It Always Is is a novel about revelations, transformations, fairy tales, and family. And it's about the ways this is how it always is: Change is always hard and miraculous and hard again, parenting is always a leap into the unknown with crossed fingers and full hearts, children grow but not always according to plan. And families with secrets don't get to keep them forever.
The New Jim Crow: Mass Incarceration in the Age of Colorblindness
by Michelle Alexander
As the United States celebrates the nation's "triumph over race" with the election of Barack Obama, the majority of young black men in major American cities are locked behind bars or have been labeled felons for life. Although Jim Crow laws have been wiped off the books, an astounding percentage of the African American community remains trapped in a subordinate status–much like their grandparents before them.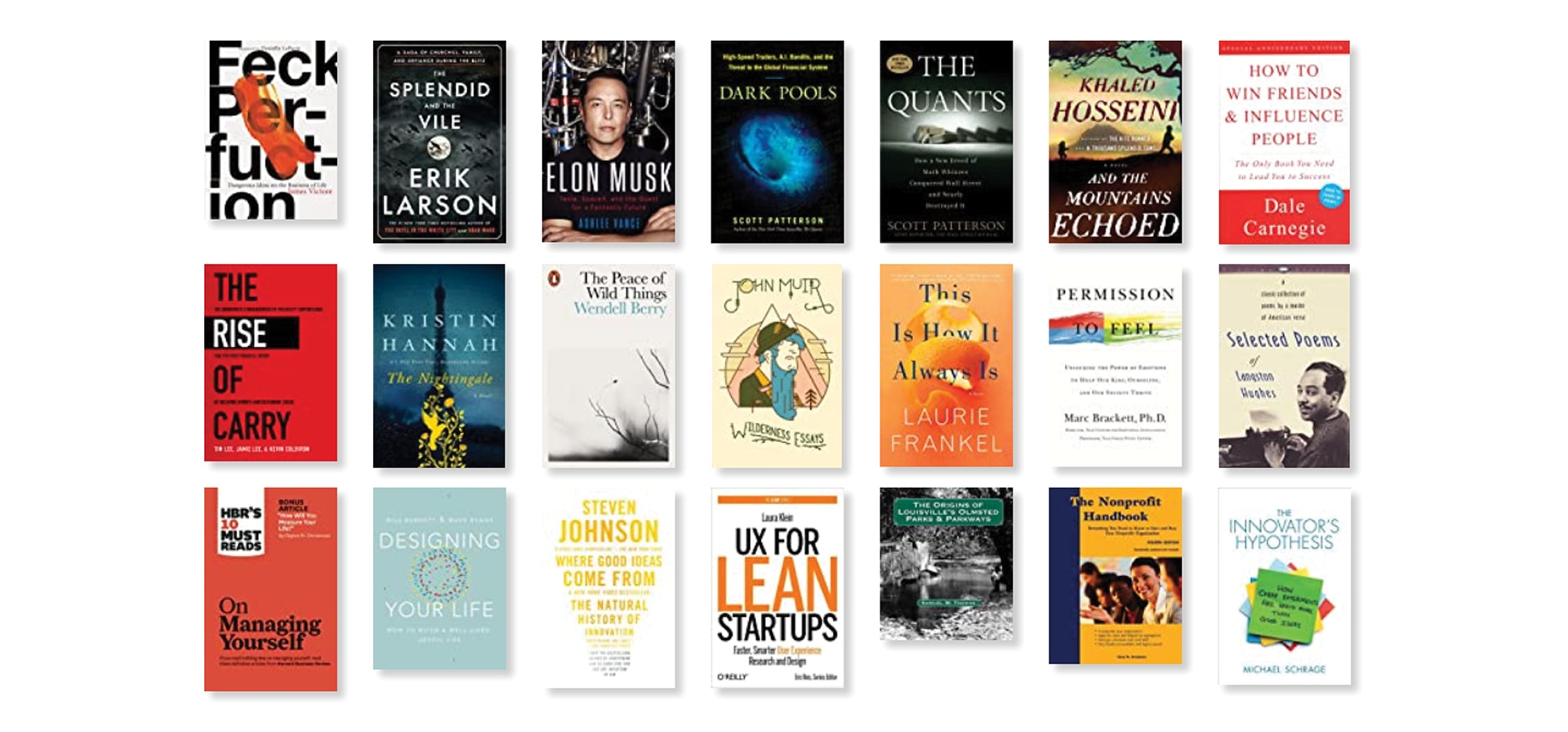 Marigrace Ragsdale
Outliers: The Story of Success
by Malcolm Gladwell
In this stunning new book, Malcolm Gladwell takes us on an intellectual journey through the world of "outliers"–the best and the brightest, the most famous and the most successful. He asks the question: what makes high-achievers different?
Problem Solving 101: A Simple Book for Smart People
by Ken Watanabe
Ken Watanabe originally wrote Problem Solving 101 for Japanese schoolchildren. His goal was to help shift the focus in Japanese education from memorization to critical thinking, by adapting some of the techniques he had learned as an elite McKinsey consultant. Now, American businesspeople can also use it to master some powerful skills.
Shoe Dog: A Memoir by the Creator of NIKE
by Phil Knight
In 1962, fresh out of business school, Nike founder and CEO Phil Knight borrowed $50 from his father and created a company with a simple mission: import high-quality, low-cost athletic shoes from Japan. Today, Nike's annual sales top $30 billion. In an age of startups, Nike is the ne plus ultra of all startups, and the swoosh has become a revolutionary, globe-spanning icon, one of the most ubiquitous and recognizable symbols in the world today.
The Nightingale
by Kristin Hannah
The Nightingale tells the stories of two sisters, separated by years and experience, by ideals, passion and circumstance, each embarking on her own dangerous path toward survival, love, and freedom in German-occupied, war-torn France—a heartbreakingly beautiful novel that celebrates the resilience of the human spirit and the durability of women.
Mallory Sanborn
Daring Greatly: How the Courage to Be Vulnerable Transforms the Way We Live, Love, Parent, and Lead
by Brené Brown
Researcher and thought leader Dr. Brené Brown offers a powerful new vision that encourages us to dare greatly: to embrace vulnerability and imperfection, to live wholeheartedly, and to courageously engage in our lives.
How to Win Friends and Influence People
by Dale Carnegie
You can go after the job you want…and get it! You can take the job you have…and improve it! You can take any situation you're in…and make it work for you! As relevant as ever before, Dale Carnegie's principles endure, and will help you achieve your maximum potential in the complex and competitive modern age. Learn the six ways to make people like you, the twelve ways to win people to your way of thinking, and the nine ways to change people without arousing resentment.
And the Mountains Echoed
by Khaled Hosseini
Crossing generations and continents, moving from Kabul, to Paris, to San Francisco, to the Greek island of Tinos, with profound wisdom, depth, insight and compassion, Khaled Hosseini writes about the bonds that define us and shape our lives, the ways in which we help our loved ones in need, how the choices we make resonate through history and how we are often surprised by the people closest to us.
Bryce Butler
Ending Overcriminalization and Mass Incarceration: Hope from Civil Society
by Anthony B. Bradley
Mass incarceration is an overwhelming problem and reforms are often difficult, leading to confusion about what to do and where to start. Ending Overcriminalization and Mass Incarceration: Hope from Civil Society introduces the key issues that need immediate attention and provides concrete direction about effective solutions systemically and relationally.
Caste: The Origins of Our Discontents
by Isabel Wilkerson
The Pulitzer Prize-winning, bestselling author of The Warmth of Other Suns examines the unspoken caste system that has shaped America and shows how our lives today are still defined by a hierarchy of human divisions.
Selected Poems of Langston Hughes (Vintage)
by Langston Hughes
With the publication of his first book of poems, The Weary Blues, in 1926, Langston Hughes electrified readers and launched a renaissance in black writing in America. The poems Hughes wrote celebrated the experience of invisible men and women: of slaves who "rushed the boots of Washington"; of musicians on Lenox Avenue; of the poor and the lovesick; of losers in "the raffle of night."
Permission to Feel: Unlocking the Power of Emotions to Help Our Kids, Ourselves, and Our Society Thrive
by Marc Brackett
The mental well-being of children and adults is shockingly poor. Marc Brackett, author of Permission to Feel, knows why. And he knows what we can do. "We have a crisis on our hands, and its victims are our children."
Derek Henricks
HBR's 10 Must Reads on Managing Yourself
by Clayton M. Christensen
The path to your professional success starts with a critical look in the mirror. If you read nothing else on managing yourself, read these 10 articles (plus the bonus article "How Will You Measure Your Life?" by Clayton M. Christensen).
The Essential Drucker
by Peter F. Drucker
Father of modern management, social commentator, and preeminent business philosopher, Peter F. Drucker has been analyzing economics and society for more than sixty years. Now for readers everywhere who are concerned with the ways that management practices and principles affect the performance of the organization, the individual, and society, there is The Essential Drucker — an invaluable compilation of management essentials from the works of a management legend.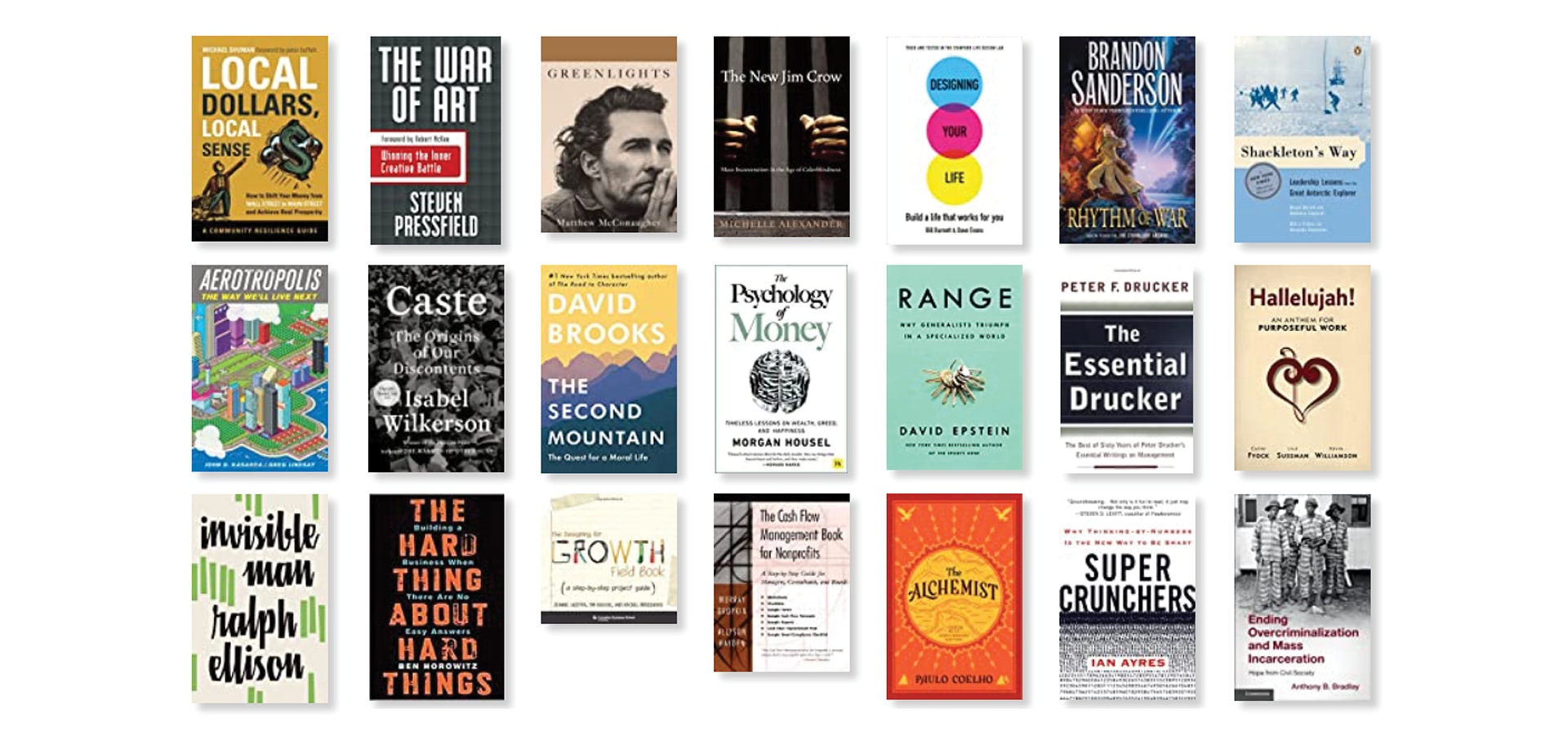 Tim Harris
Range: Why Generalists Triumph in a Specialized World
by David Epstein
What's the most effective path to success in any domain? It's not what you think. Plenty of experts argue that anyone who wants to develop a skill, play an instrument, or lead their field should start early, focus intensely, and rack up as many hours of deliberate practice as possible. If you dabble or delay, you'll never catch up to the people who got a head start. But a closer look at research on the world's top performers, from professional athletes to Nobel laureates, shows that early specialization is the exception, not the rule.
The Psychology of Money
by Morgan Housel
Timeless lessons on wealth, greed, and happiness doing well with money isn't necessarily about what you know. It's about how you behave. And behavior is hard to teach, even to really smart people.
The Second Mountain: The Quest for a Moral Life
by David Brooks
Most of us, over the course of our lives, will make four big commitments: to a spouse and family, to a vocation, to a philosophy or faith, and to a community. Our personal fulfillment depends on how well we choose and execute these commitments. Joy comes when we fuse them into one coherent whole, with each of these commitments fortifying and strengthening the others.
Julie Bender
Wilderness Essays
by John Muir
John Muir was one of our first and finest writers on the wilderness of the American West. Part of Muir's attractiveness to modern readers is the fact that he was an activist. He not only explored the West and wrote about its beauties– he fought for their preservation. His successes dot the landscape in all the natural features that bear his name: forests, lakes, trails, glaciers. Here collected are some of his finest wilderness essays, ranging from Alaska to Yellowstone, from Oregon to the Range of Light– the High Sierra.
The Peace of Wild Things: And Other Poems
by Wendell Berry
The poems of Wendell Berry invite us to stop, to think, to see the world around us, and to savour what is good. Here are consoling verses of hope and of healing; short, simple meditations on love, death, friendship, memory and belonging; luminous hymns to the land, the cycles of nature and the seasons as they ebb and flow. Here is the peace of wild things.
Moses Icyishaka
The Rise of Carry: The Dangerous Consequences of Volatility Suppression and the New Financial Order of Decaying Growth and Recurring Crisis
by Tim Lee, Jamie Lee, Kevin Coldiron
A groundbreaking book sure to leave its mark in the canon of investing literature, The Rise of Carry explains how carry trading has virtually shaped the global economic picture–one of decaying economic growth, recurring crises, wealth disparity, and, in too many places, social and political upheaval.
Rhythm of War
by Brandon Sanderson
After forming a coalition of human resistance against the enemy invasion, Dalinar Kholin and his Knights Radiant have spent a year fighting a protracted, brutal war. Neither side has gained an advantage, and the threat of a betrayal by Dalinar's crafty ally Taravangian looms over every strategic move.
Ben Terry
Designing Your Life: Build a Life that Works for You
by Bill Burnett, Dave Evans
Whether we're 20, 40, 60 or older, many of us are still looking for an answer to that perennial question, 'What do you want to be when you grow up?' In Designing Your Life, Silicon Valley design innovators Bill Burnett and Dave Evans use their expertise to help you work out what you want – and how to get it.
Per Nordgren
Greenlights
by Matthew McConaughey
I've been in this life for fifty years, been trying to work out its riddle for forty-two, and been keeping diaries of clues to that riddle for the last thirty-five. Notes about successes and failures, joys and sorrows, things that made me marvel, and things that made me laugh out loud. How to be fair. How to have less stress. How to have fun. How to hurt people less. How to get hurt less. How to be a good man. How to have meaning in life. How to be more me.
The War of Art: Break Through the Blocks & Win Your Inner Creative Battles
by Steven Pressfield
Internationally bestselling author of Last of the Amazons, Gates of Fire, and Tides of War, Steven Pressfield delivers a guide to inspire and support those who struggle to express their creativity. Pressfield believes that "resistance" is the greatest enemy, and he offers many unique and helpful ways to overcome it.
TJ Abood
The Quants: How a New Breed of Math Whizzes Conquered Wall Street and Nearly Destroyed It
by Scott Patterson
With the immediacy of today's NASDAQ close and the timeless power of a Greek tragedy, The Quants is at once a masterpiece of explanatory journalism, a gripping tale of ambition and hubris, and an ominous warning about Wall Street's future.
Dark Pools: The Rise of Artificially Intelligent Trading Machines and the Looming Threat to Wall Street
by Scott Patterson
A news-breaking account of the global stock market's subterranean battles, Dark Pools portrays the rise of the "bots"- artificially intelligent systems that execute trades in milliseconds and use the cover of darkness to out-maneuver the humans who've created them.
Elon Musk: Tesla, SpaceX, and the Quest for a Fantastic Future
by Ashlee Vance
Elon Musk, the entrepreneur and innovator behind SpaceX, Tesla, and SolarCity, sold one of his internet companies, PayPal, for $1.5 billion. Ashlee Vance captures the full spectacle and arc of the genius's life and work, from his tumultuous upbringing in South Africa and flight to the United States to his dramatic technical innovations and entrepreneurial pursuits.
Olivia Allison
The Splendid and the Vile: A Saga of Churchill, Family, and Defiance During the Blitz
Erik Larson
On Winston Churchill's first day as prime minister, Adolf Hitler invaded Holland and Belgium. Poland and Czechoslovakia had already fallen, and the Dunkirk evacuation was just two weeks away. It was up to Churchill to hold his country together and persuade President Franklin Roosevelt that Britain was a worthy ally–and willing to fight to the end.
Feck Perfuction: Dangerous Ideas on the Business of Life
by James Victore
Filled with humor and stern advice, Feck Perfuction provides "dangerous ideas" for unearthing your authentic self, including "the things that made you weird as a kid make you great today," "the struggle is everything," and many more. No matter what industry or medium you work in, this book will help you live, work, and create freely and fearlessly.
Podcasts
This year was a big year of podcasting for our team as we launched our new More Than Profit podcast and recorded 25 episodes. With our new dive into the world of podcasting, we decided to add a few of our favorite podcasts to this year's list.
Pod Save Africa
A Podcast about Africans by Africans. Great conversations with Africans of various walks on African issues of various kinds with a focus on progress.
Lore
Lore is a bi-weekly podcast (as well as a TV show and book series) about dark historical tales. Each episode explores the mysterious creatures, tragic events, and unusual places that fill the pages of history. Because sometimes the truth is more frightening than fiction.
The Indicator
A little show about big ideas. From the people who make Planet Money, The Indicator helps you make sense of what's happening today. It's a quick hit of insight into work, business, the economy, and everything else.
The Moth
Since its launch in 1997, The Moth has presented thousands of true stories, told live and without notes, to standing-room-only crowds worldwide. Moth storytellers stand alone, under a spotlight, with only a microphone and a roomful of strangers.
Hidden Forces
Demetri Kofinas interviews some of the most brilliant minds in science, technology, finance, politics, and culture as he uncovers the hidden forces driving the most powerful changes we see in the world.
Crime Junkie
Crime Junkie is a weekly true crime podcast dedicated to giving you a fix. Every Monday, Ashley Flowers will tell you about whatever crime she's been obsessing over that week in a way that sounds like you're sitting around talking crime with your best friends.
Creative Pep Talk
Creative Pep Talk helps you build a thriving creative practice! Each week, host Andy J. Pizza serves up monologues and interviews with creative powerhouses like Joseph Gordon-Levitt, Abbi Jacobson and Morgan Harper Nichols that are chocked to the brim with creative performance hacks and fresh marketing tactics.
–
You can take a look at our lists from years past here: 2017, 2018, 2019, or subscribe to our podcast here.