VSCO Voices – Dave Kasnic
Together with VSCO, we're excited to announce this year's VSCO Voices grant recipients. For the second year in a row, the program will support five creators with mentorship and funding to make art that empowers marginalized communities in the United States. This year's theme, Style, drew many remarkable applications and we are excited to be interviewing each creator that was selected for this year's cohort to learn about them and their projects.
We are excited to introduce you to another VSCO Voices creator, Dave Kasnic. Dave is a photographer who was raised in rural Washington State and is currently based in Chicago, Illinois. His work surrounds race, community, and religion. This focus is reflected in his project, Alpha & Omega Ministries. The photographic project documents the life and congregation of Pastor Martha Freeman—a pillar of positivity in her often-marginalized and narrowly-depicted community of Garden Homes, Milwaukee.
We spoke with Dave about what he's learned working on his project, what advice he'd give someone, and if he believes storytelling and art can create change. Here is what he had to say.
What is the project you are working on for VSCO Voices?
My work centers around Martha Freeman and her family in Milwaukee, Wisconsin. From this broad umbrella, my work explores ideas of identity, belonging, race, community, and faith.
What's your favorite part about this project?
It is a pleasure to play in portraiture with just about anyone willing, but perhaps my favorite aspect within the work is becoming ever so close with Martha over the past few years. Her time is precious and I'm grateful for the humid, summer nights we were able to sit on her second-floor balcony listening to cicadas, watching the cars drive by while providing a bit of an absorbing sound board for Martha. She hasn't always been afforded the ability to simply rant about her struggles and concerns and I hope that if anything I'm able to absorb some of that for her.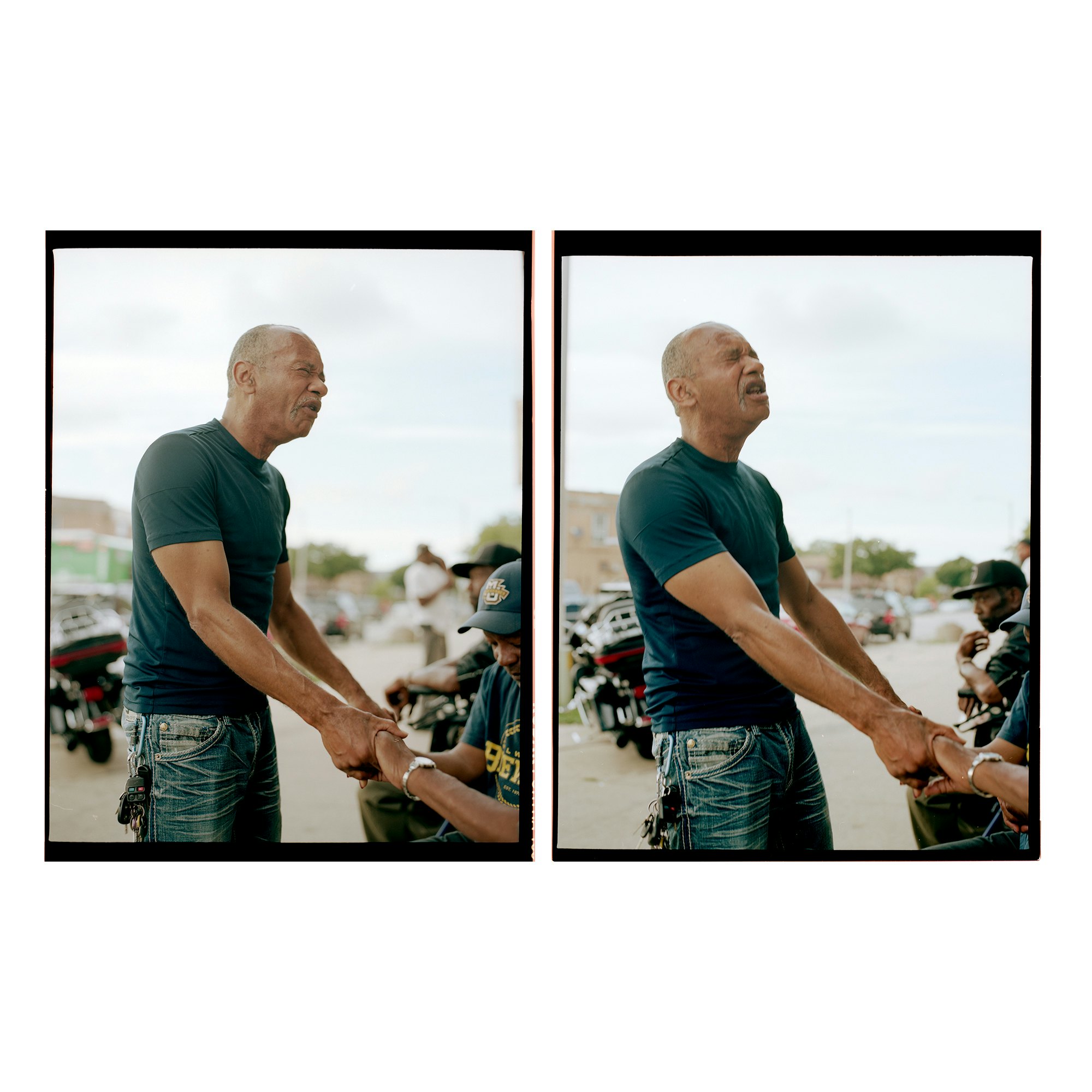 How does where you live impact your creativity?
The midwest is a difficult region to make work as a photographer of people/community outdoors from about December to March. It is doable but has its challenges due to weather. The summers are tremendously productive.
What kind of impact has working on this project had on you personally and for the community?
I have difficulty accounting into words the impact Martha, her family and the Garden Homes community have had on me. It's preposterous that I could ever say anything authoritatively about the Garden Homes community so I cannot speak to the level of impact my pictures have had on the Freeman family and the wonderful folks on 27th and Atkinson. Their experience is not my experience. I can understand aspects of it, but I can't speak for it.
I've longed for a large family and community for many years…The past five months of continuing this work with the generous support of Access Ventures and VSCO has taught me that this aspect is inherently a large plotline to my pictures
What have you learned so far working on this project?
I've had trouble pinpointing answers to the questions I'm often confronted with – "Why this family?" "Why this community?" "Why this storefront church?" I'm not sure I have terribly concrete answers but I do know that I've longed for a large family and community for many years. This isn't to say that I don't love my own family with all of my heart, but there's a large part of me that longs to be a member of Martha's family. The past five months of continuing this work with the generous support of Access Ventures and VSCO have taught me that this aspect is inherently a large plotline to my pictures. My work is as much about me as it is about Martha, her family, and the folks at 27th and Atkinson. There also is an aspect that I've stopped trying to explain so much in that there are some places I've encountered as a picture maker, not many, that have a gravitational pull. Some of magnetic attraction to my thoughts, concerns, and feelings. Alpha & Omega Ministries / 27th and Atkinson have this gravitational pull on me. I want to make pictures as close to the center as possible.
What advice would you share with someone who is early on in their career, aspiring to do what you do?
Find out what you truly care about and submerge yourself in whatever that is. And remember, that sometimes it is okay to put on blinders or earplugs to edge out some of the exterior noise that can distract in the process.
Do you believe art and storytelling can create change? Why?
I certainly feel like the two can aid in the preliminary steps to achieving "change" but on their own, we're left with photographs (and/or other mediums) and words, which I'm not certain can achieve change on their own. I believe there needs to be discourse surrounding art and storytelling in order to take steps towards change. The work on its own is not enough.
There is a lot to learn when you are willing to be a stranger.
Your project revolves around Pastor Martha Freeman and her community of Garden Homes, Milwaukee. When did you first meet Martha and describe for us your relationship with her?
I first met Martha on a Sunday morning in 2016. A man named Shawn Moore, who used to live behind Martha's church, introduced us and we've been friends since that Sunday. Our relationship is comfortably unspoken. Through my lens, Martha is the grandmother I never had. I'd like to think that this feeling is reciprocal, that she considers me as some sort of strange family member who won't leave her alone. In all seriousness, I hope that I'm able to be there for her at a time in her life when she is just now being afforded the ability/time to reflect and evaluate.
What is it you want to say with your photographs, and how do you get your photographs to do that?
I'm often asked, usually by people outside of the Freeman family and the Garden Homes community, what reason I have for going to a place that isn't my own or, more bluntly put, where I don't belong. As I've tried to answer that question over the past few years I've gone from the predictable and somewhat limited documentary photography explanation to more personal answers. And with those personal answers, my work has evolved tremendously. I try to photograph from the inside out, and—more recently in 2019— I've found that I have much more of a resounding voice when I move between the hypothetical and literal inside and outside. I've tried to be a part of this family, this community, but that won't ever be the case. I realize now that my pictures teeter between this false idea of belonging and the stark realization that all I've done is spend an absurd amount of time in a place that I truly care about. My hope is that these two conflicting ideas can be quite valuable to political and communal discussions one day. Most importantly, there is a lot to be learned when you're willing to be a stranger.
How would you describe your editing style?
It is a bit all over the place at the moment, but I try to live with my work as much as possible in my small studio space. From there, I move pictures around the floor, and on the wall — playing with concepts, ideas, and themes. This is probably the approach for many folks who take pictures of people out in the world. The most important thing I've found in the editing process is bringing my work to folks I trust – former professors, artists in Chicago/New York – because often I have the tendency of losing direction on my own.
---
Access Ventures believes in creators like Dave can be a powerful force for change.  VSCO Voices is a program that helps identify and fund those early-stage creators that create impactful work so that the program might become a catalytic experience to help propel a creators career. Each year, VSCO Voices will select five creators to participate in the six-month program and will provide each of the five grant recipients with mentorship and $20,000 in funding as well as participation in key events with your cohort. Follow along as we continue to update and share more stories about this year's VSCO Voices creators.
You can read our first three VSCO Voices interviews with Squint Sandifer, Alexandra Cuerdo and Lauren Vied Allen.