VSCO Voices – Lauren Vied Allen
Creative expression is a powerful tool for sparking change and creating dialogue. And together with VSCO, we believe that creators are amongst the best equipped to spread and awaken diverse perspectives. For the second year in a row, our program, VSCO Voices, will support five creators with mentorship and $20,000 of funding to make art that empowers marginalized communities in the United States. This year's theme, Style, drew many remarkable applications and we are excited to be interviewing each creator that was selected for this year's cohort to learn about them and their projects.
In this feature, we talked to VSCO Voices creator Lauren Vied Allen. Lauren is a photographer and visual creative from North Carolina who focuses on culinary traditions, food, and people. Her project, Grito will be a photography and video project that showcases the vibrant and lively art of ballet folklórico, as performed by immigrant and first-generation Mexican American youth in Eastern North Carolina. Through this project, Lauren aims to capture the cultural richness and resilience of a community that has been marginalized by natural disasters and systemic racism.
We spoke with her about her ongoing project, how where she lives affects her work, and what advice she might give to others. This is what she had to say.
Tell us a little bit about yourself.
I'm a food and travel photographer based in Durham, NC. I am a Chicana who grew up in the Air Force, lived all over the world, but has roots in South Texas and North Carolina. I studied photojournalism at UNC-Chapel Hill, where I developed a focus on food and travel photography as a means of gaining a larger understanding of cultural identities and using those skills to enrich my community. I document culinary traditions, food, people, and the crossroads where they collide to create compelling photographic narratives. On the side, I am the co-founder of a passion project called The World In a Pocket, where we provide a collaborative platform to tell stories of cultural identity through the lens of a dumpling.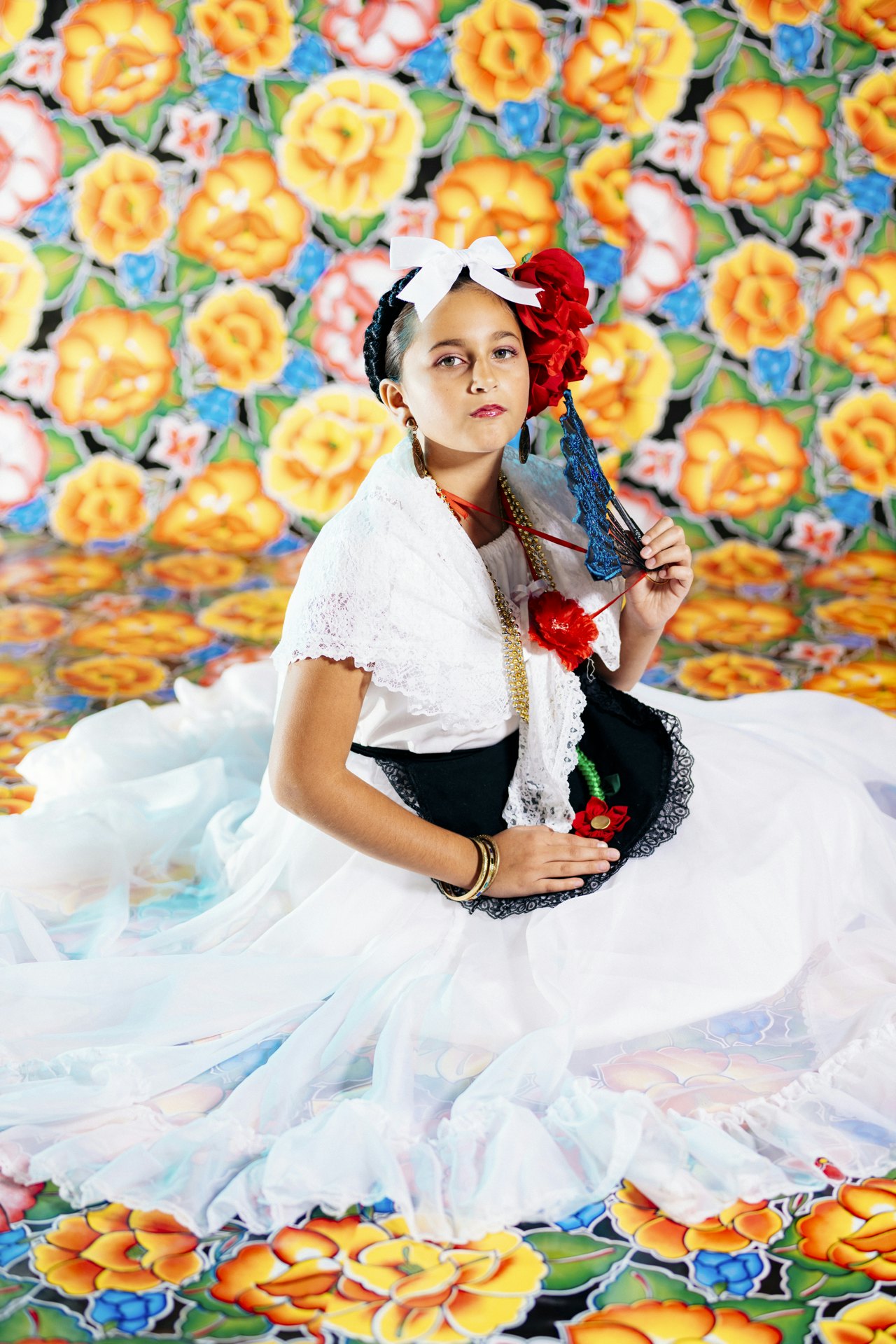 What is the project you are working on for VSCO Voices?
My project is GRITO, which documents the impact of ballet folklórico as it empowers immigrant youth, preserves Mexican heritage, and educates local communities about what it means to be Mexican in the rural South. GRITO is centered around Ballet Foklórico De Colores, a 4-H club in Wayne County, NC.
What's your favorite part about this project?
THE KIDS. Seriously, they have taught me so much about myself, our local Latinx community, and how to "hit the whoa." They fill me up with so much joy. They keep me going. These young ladies and gentlemen have latched onto this project and given me more of themselves than I could have ever imagined.
What kind of work were you doing before the VSCO Voices project?
I primarily photograph food and travel stories for commercial and editorial clients. I haven't stopped doing that. GRITO has allowed me to grow more into portraiture and flex my video muscles more than I have in the last few years, and I'm looking forward to working that into my food and travel work.
How does where you live impact your creativity?
Durham, North Carolina and the South is a very diverse part of the country that often gets pigeonholed as being close-minded and uneducated. It's very much the opposite of that. Since I moved back to the Triangle area, I've met some extremely talented writers, photographers, artists, and visionaries who have helped me create my community. We have a very supportive community of creative women who choose to collaborate and build up versus compete with each other and it's as refreshing as this topo chico with lime that I'm drinking right now.
What kind of impact has working on this project had on you personally and for the community?
Personally, I feel like I was always scared to embed myself in the immigrant community for fear of being told I'm not "Mexican enough." The Latinx diaspora is so large and diverse, I honestly was stupid for telling myself that. I've become very proud of who I am and where my roots are while working with this immigrant community.
For the community, I pray I have given them a sense of hope. They are so resilient, strong, hardworking and constantly code-switching in our society. I hope that I have given them something to be proud of as they showcase their talents and the richness they bring to rural North Carolina, making people think positively about them instead of what is in the media.
What have you learned so far working on this project?
Be kind to yourself and it's ok if you can't do everything. My project has gotten smaller in some ways and larger in others—a very different vision than I had when I began. I am not failing, I'm just shifting to what I think will be the most impactful representation of my community.art and storytelling create a concept that is universally relatable. When people can relate to something, they care. And when they care, change starts happening.
Art and storytelling create a concept that is universally relatable. When people can relate to something , they care. And when they care, change starts happening.
What advice would you share with someone who is early on in their career, aspiring to do what you do?
Don't stop. It's not easy to do what makes you the happiest, but then it wouldn't be as desirable. Keep taking photos. Keep challenging yourself, and don't be afraid to ask for help when you need it.
Do you believe art and storytelling can create change? Why?
Well, if I didn't believe it would I be doing this? I think in the very least, art and storytelling create a concept that is universally relatable. When people can relate to something, they care. And when they care, change starts happening.
What are some of the challenges and joys of working with teenagers as your main subjects?
They tell you like it is, but then shy away when you ask them to just be themselves. They are very vocal, but scared of what others will think when they speak. So in a way, it has been challenging, but when I show them the work, and their stories, they get this powerful surge of pride that makes them realize that they matter and their story matters. It's really unlike anything else.
You are working in both photography and videography with this project. Was it hard to balance getting quality shots of both? How did you do it?
It's been very challenging working with both photography and videography. I've had to compartmentalize my brain and focus on one at a time. Although, I've shifted my project to be more around a short film and a series of portraits of the dancers and that was the gift my brain didn't know it needed. So if I'm in the field, I'm working on video and if I'm in the studio with them, I'm working on portraits.
Can you expound on the importance of the tapestries used in the backdrops of your photos and videos?
The tapestries were a fun way to show the bold patterns found throughout Mexico and emphasize the color and the energy the dances emote. Each dance is from a specific state within Mexico, so I used tapestries that correspond to create backdrops that embody the spirit of ballet folklórico.
---
Access Ventures believes in creators like Lauren can be a powerful force for change.  VSCO Voices is a program that helps identify and fund those early-stage creators that create impactful work so that the program might become a catalytic experience to help propel a creators career. Each year, VSCO Voices will select five creators to participate in the six-month program and will provide each of the five grant recipients with mentorship and $20,000 in funding as well as participation in key events with your cohort. Follow along as we continue to update and share more stories about this year's VSCO Voices creators.
You can read our first two VSCO Voices interviews with Squint Sandifer and Alexandra Cuerdo.