VSCO Voices – Alexandra Cuerdo
Creative expression is a powerful tool for sparking change and creating dialogue. And together with VSCO, we believe that creators are amongst the best equipped to spread and awaken diverse perspectives. For the second year in a row, our program, VSCO Voices, will support five creators with mentorship and $20,000 of funding to make art that empowers marginalized communities in the United States. This year's theme, Style, drew many remarkable applications and we are excited to be interviewing each creator that was selected for this year's cohort to learn about them and their projects.
In this week's VSCO Voices feature, we are excited to introduce you to Alexandra Cuerdo.  Alexandra is a writer and director based in Brooklyn, NY. Her project, Dancing On My Own, will be a short documentary film about Bubble T, a radical queer dance party in New York that celebrates queer Asian visibility in the nightlife space. Alexandra's project aims to capture the vibrant, joyful essence of the LGBTQ Asian community and, in doing so, expand the understanding of queerness to include the Asian community and Asian heritage.
We spoke to Alexandra about her upcoming project, what she is learning, and if she believes art and storytelling can affect change.
Tell us a little bit about yourself.
I'm a Filipino-American writer and director, based in New York and LA. My directorial debut ULAM: Main Dish is the first Filipino food documentary to achieve worldwide distribution on Hulu. My work has been featured in the New York Times, the Los Angeles Times, BuzzFeed, Vogue, TimeOut, Filmmaker Magazine, Eater and more. Recently, I co-wrote the memoir and cookbook AMBOY: Recipes From the Filipino-American Dream for Houghton Mifflin Harcourt. It's been a busy past few years!
What is the project you are working on for VSCO Voices?
My project with VSCO Voices is a short film about the largest queer Asian dance party in NYC, Bubble T, and my own coming out experience. The film is a hybrid love letter to my mother, my Asian identity, and to the queer community that has made me feel at home.
What's your favorite part about this project?
Filming a 3-level 1,000+ person dance party with two camera crews was wild! I loved the rush of capturing all the brilliant live performances from the Bubble_T community. The drag looks were stunning, the decor was otherworldly, and we all had the best time!
What kind of work were you doing before the VSCO Voices project?
I just finished directing my first feature, ULAM: Main Dish, now available on Hulu! ULAM follows the rise of the Filipino food movement via the chefs crossing over to the center of the American table.
How does where you live impact your creativity?
I grew up just outside of LA, and always looking to the city as my future. My father works at Columbia Pictures, and I grew up doing theatre — so film was inevitable. As a teenager, I would escape to LA whenever I could. More recently, I've split my time between LA and New York, the home of Bubble T, and the queer Asian community I'm proud to call my own.
What kind of impact has working on this project had on you personally and for the community?
Working on this project has changed my life. Full stop. I initially wanted to do a documentary focused on Bubble T, but as I started developing the story, I realized I was having more conversations about my own coming out experience. I showed the pitch for the film to my mom, and that sparked a whole new dialogue between us. Ultimately, that conversation helped heal our relationship. That's when I knew my story was part of the overall picture—that how I related to Bubble T was important. I hope that when you see this film, you understand the impact of communities and safe spaces like Bubble_T. It's so much more than just a party, it's a way to envision our future and our identity as queer Asian-Americans.
What have you learned so far working on this project?
I've learned that support is everything. From an amazing creative producing team to kickass crews on both coasts—I'm so grateful for every person that has donated their time, lowered their rates and worked all hours of the day to make a fantastic finished film. I couldn't do this without them.
What advice would you share with someone who is early on in their career, aspiring to do what you do?
Do the work. Get into the industry and start working any way you can— the practical experience of working on set, or in a studio setting, will give you the best skill set. And the relationships you build will serve you well for your whole career.
Do you believe art and storytelling can create change? Why?
Yes, I do. Film gives us a way to see the world—on screen, we understand who we look up to, and who we could love. So, it becomes powerful to represent the LGBT Asian community in this way. Telling this story serves to document their history and the everyday heroes that are changing the world for the better.
Why Bubble T? What drew you to it?
Bubble T is an explosion of the mind. When I first walked in, it felt like entering a hidden space in my soul. For the first time, the entire world was compiled with people that looked, dressed, danced, and sounded like me. It was the largest number of Asian queers I had seen in a single space. For weeks after my first party, I couldn't stop thinking about it. I was shaken. I was shook​. It was the feeling of falling in love — for the first time, with myself.
Working on this project changed my life…I showed the pitch for the film to my mom, and that sparked a whole new dialogue between us. Ultimately, that conversation helped heal our relationship.
What makes Bubble T different from other dance parties?
Bubble T is a radical queer dance party, self-described as "where Asians rule but everybody's welcome." 5 Asian LGBT pioneers — Stevie Huynh, Bichon, Nicholas Valite Andersen, Pedro Balneg Vidallon Jr, and Paul Tran — founded it in the wake of Trump's election. Bubble T takes the radical stance of centering queer Asians in the nightlife space. To this day, it is the most prominent event of its kind in all of NYC. It's been covered extensively in the media — ​New York Times,​ ​New York Magazine, Milk Magazine, Out​ and more. It's not overtly political, but somehow, from the moment you enter the party, it feels revolutionary.
This is a very personal project for you. Talk about your thought process in deciding to include your own story as part of the larger film?
I didn't originally intend to include my story. It came out of the process of developing the idea for a documentary on Bubble T. Going on camera was hard! I don't love the spotlight; I love being behind camera.
What challenges or barriers have you faced while working on this project?
We had one night to film Bubble T World Pride in NYC. It was hectic organizing two camera crews, a backdrop we built on-site, and a full series of interviews for such a small shoot; but we pulled it off. Filming drag performances and portraits all night was exhilarating, and our crew was top notch. I wouldn't have had it any other way! Also, the Orange County interview with my mom was surreal — definitely three years of therapy in three hours. I'm glad I did it, but I would never want to do it again!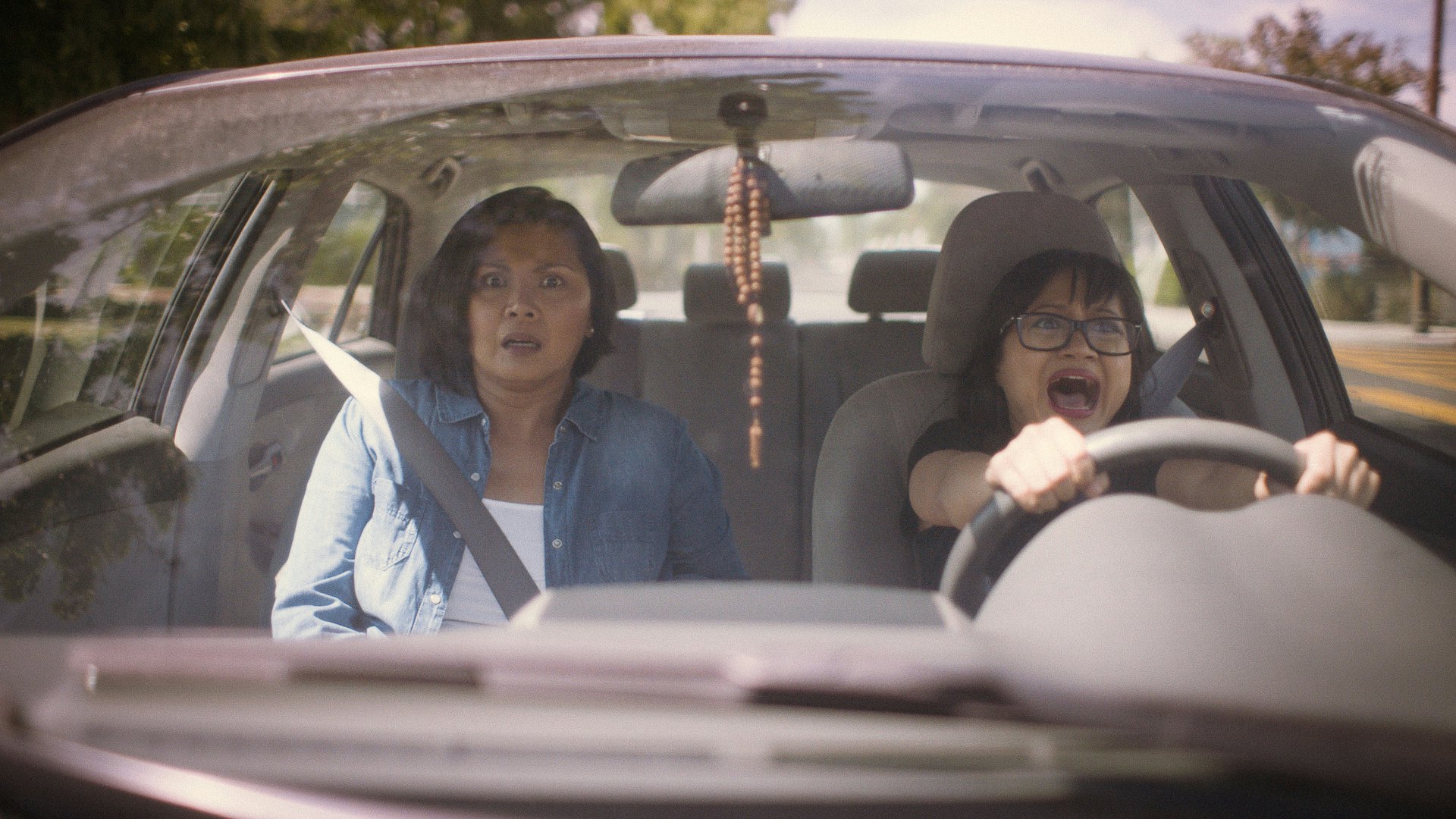 What role has your creative community played in supporting you through this project?
I'm so lucky to have an incredible creative family in both LA and NYC. Everyone shifted their schedules, pulled in their friends, and used their connections to get discounts, great cameras, and an amazing team. Truly blessed to work with everyone. And huge huge thanks to Bubble T, and to my mom, for letting us in, and lighting up the screen. Much love!
---
Access Ventures believes in creators like Alexandra Cuerdo can be a powerful force for change.  VSCO Voices is a program that helps identify and fund those early-stage creators that create impactful work so that the program might become a catalytic experience to help propel a creators career. Each year, VSCO Voices will select five creators to participate in the six-month program and will provide each of the five grant recipients with mentorship and $20,000 in funding as well as participation in key events with your cohort. Follow along as we continue to update and share more stories about this year's VSCO Voices creators.