Alternative Solutions For Small Business Funding
It's a sunny summer day and the line for the craft ice cream stand you launched the year prior has a line that stretches five booths back. Your full-time day job prevents you from taking on more business, and even if you had the time, your ice cream mixer is not big enough to handle all of the opportunities that are presenting themselves. You keep having to say no lucrative catering opportunities, and hope that they will still be interested down the road.
At this point you and your friends are working for very little pay while profit is plowed back into running the business. You regularly sell out of all the ice cream your small mobile refrigeration case can hold. You've got 5,000 Instagram followers, and everyone is asking where your ice cream shop is located because you've managed to create quite an impression. "Surely this is a big local operation," they're thinking. You could not be more proud of the brand you've built. You do the math and realize that if you can get a loan for $50,000 to $100,000 you'll be able to open a shop that allows you to create six times as much ice cream per hour than before, make money between events, hire more staff, fill a second ice cream cart with the extra ice cream you're making, and work towards operating the company full-time. Taking out a loan to make all of this happen is a no brainer given all of the business you've turned down.
After presenting all of your evidence to the bank, they're excited. But that excitement soon turns into disappointment The loan officer thinks this a great business with a lot of momentum, but you don't meet the minimum requirements. Your financials look good, but you lack a credit history for your business. You're also unable to provide two years of financials, or enough savings to provide as collateral for the loan. They assure you that they're eager to lend down the road if you're able to keep this up, but at this point their hands are tied. Several thoughts cross your mind: "How is it that I've turned down $15,000 worth of business in the past six months, but it doesn't matter until I've booked the business? How will I ever get that business if I'm not able to buy larger equipment? If I can't find a loan for the larger space, it will take five more years to save enough money–and that's without taking a salary!"
Small business ownership is a world where hard work and success do not easily translate into access to capital. Commonsense seems to say that it should, but the truth is that it's very hard for traditional lenders to provide small amounts of capital in a profitable manner. In the world of microfinance, community and character offer practical solutions to offset the perceived risk in lending to newer businesses who lack financial collateral. For example, when friends and family are the first lenders in a crowdfunding context you've created a character based collateral requirement with a built-in incentive for the borrower to repay in order to maintain those relationships.
It's extremely important that newcomers to the industry, and the foundations who help to fund microfinance work, not focus on end-all-be-all solutions. They should rather understand how their product can complement other microlending solutions as one of several layers of capital a small business will access prior to qualifying for mainstream conventional debt. The more complimentary options the better! Over the past three years we've focused the majority of our microfinance efforts in two directions: our Growth Loan, and engagement with the Kiva US program. Our convictions around complementary solutions led us to create a product that filled a void in our local context, and now exists as the next "step up" from Kiva in the solution stack by offering larger loan amounts to slightly more established businesses (12 months or more). A borrower's next step after the Growth Loan will hopefully be their first mainstream conventional loan, although additional layers from a local Community Development Financial Institution (CDFI) might still be appropriate.
The solution to accessing more capital is multiple solutions.
The Growth Loan is also unique in that it's designed from the a "borrower up" perspective, as opposed to "lender down." A lender down approach starts with the need to deploy large amounts of capital as quickly as possible, motivated primarily by the mandate to maximize shareholder profit. A borrower up approach is designed around the common alternative assets possessed by all small business owners, and is equally concerned with cost, access, recycling capital, and achieving positive returns. Similarly, Kiva's US program was specifically designed for small businesses owners who struggle to find mainstream capital options. Kiva provides an inclusive solution that is powered by thousands of local lenders, and over 1.7 million worldwide. More than half of all Kiva US loans go to women or minority owned businesses.
If you look at these two alternative lending solutions you will see four elements that they have in common.
Low Cost
Kiva is free in every way to it's users. There's no aspect of participation on the US platform that costs a dime. Instead, users are given the opportunity to tip Kiva for the good work that they're doing. Kiva US keeps its operating costs low by centralizing their efforts and working with pre-existing local trustees and organizations who are already well known in their communities for their work in the small business space.
The Growth loan is community activated as well, unable to operate without a volunteer loan committee who has full authority to approve or deny borrowers. Loan packages are created by the Louisville Small Business Development Corporation (SBDC) who already work with hundreds of small businesses per year to improve their business model and support them in finding additional capital.
Costs can be decreased by engaging community.
Recycled Capital
Both the Growth Loan and Kiva are effectively recycling capital. Growth Loans are funded 100% by a revolving fund that began with $350,000. Over the past three years we've made more than $500,000 worth of loans with the principal that has been repaid. On Kiva, approximately 90% of lenders choose to relend the funds that are repaid. A real time example is our own lending account on Kiva, in which we've deposited $3,499 and issued $7,075 in 0% interest loans.
Access To Capital
Access is measured not only by the number of loans that are made, but by the diversity of the recipients. Both the Growth Loan and Kiva loans are uncollateralized. When loan amounts of less than $35,000 are appealing, the borrower typically has very little collateral to offer. The borrower up approach therefore essentially excludes the use of traditional collateral. The creative use of common alternative assets has proven to be just as valuable in these cases. What is more, over 50% of the funded loans in both programs have gone to either women or minority owned businesses. This is remarkable considering some studies show lending to women and minorities totaling just over 25% of all conventional loans.
Positive Returns
Kiva offers 0% interest loans to borrowers, so there is no positive return to share with lenders in a financial sense. Of course, the potential for large intrinsic returns is great.
The current interest rate range for the Growth Loan is below market rate at 5%-7%. Fast online capital is the closest comparison to the Growth loan, with rates beyond 9%. Local Community Development Finance Institutions (CDFI's) are able to offer larger amounts of capital at similar rates, but typically prefer more established businesses – and with only approximately 2,000 CDFIs across the country, some communities have a capital desert and lack this infrastructure as an option. Interest earned can be used to offset default risk, or collected as revenue to help run the program.
Sourced from the Opportunity Fund's report entitled Ripple Effect: The Macroeconomic Impact of Small Business Lending.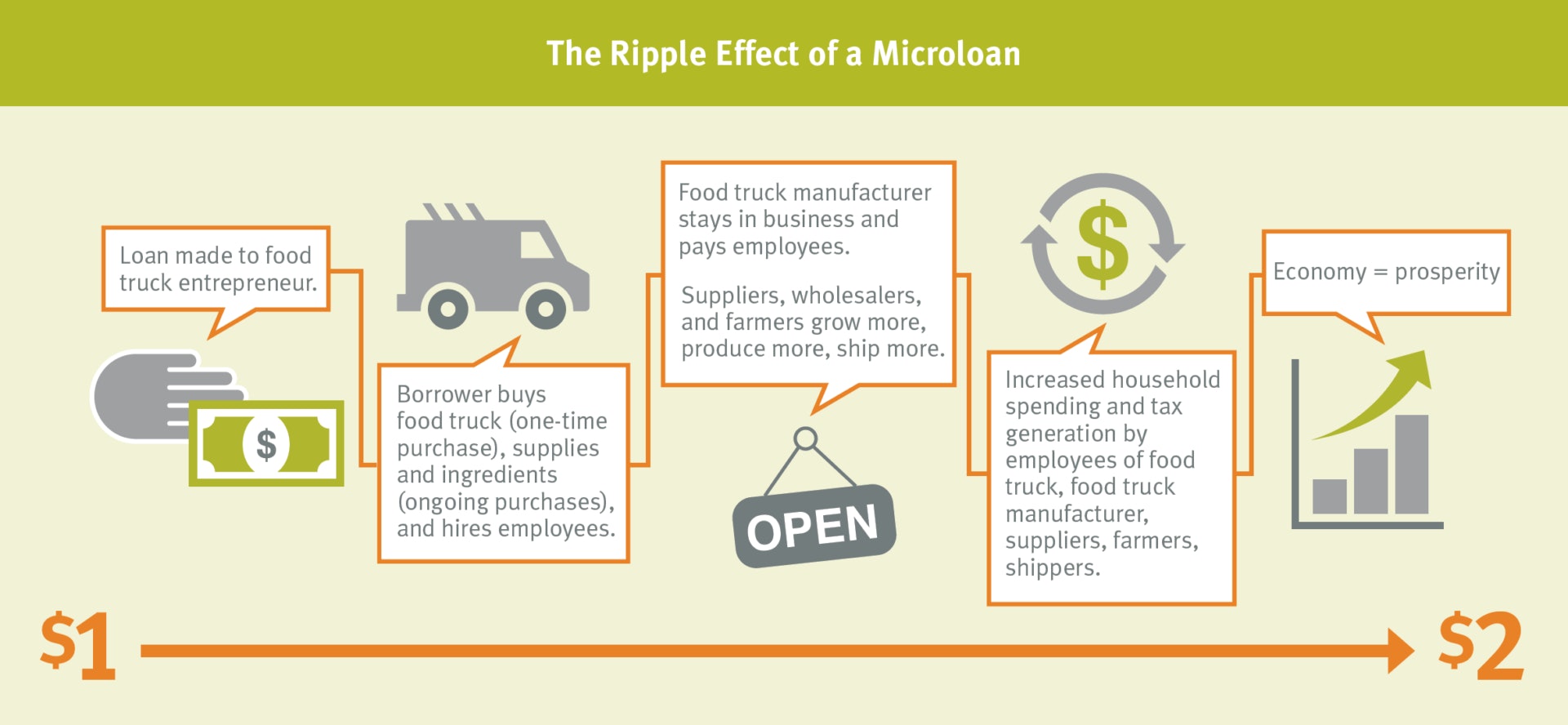 Over the past three years we've seen over 140 small businesses access $1.25 million worth of capital from these two products resulting in potential economic activity of $2.5 million. Both leverage traditional risk management concepts, but by restricting their design to a borrower up approach, they substitute traditional assets for those that are commonly available to all small business owners. Both also implement lean underwriting solutions that are not only low cost, but provide an opportunity for dozens and even thousands of local citizens to participate in economic development in exciting and meaningful ways.
We are excited to continue exploring, testing and deploying solutions that contribute to a more robust and inclusive capital system for entrepreneurs throughout the country. If you have additional interest in establishing a Growth Loan or a local Kiva initiative in your own community, we'd love to hear from you!